Supermarket Mania Journey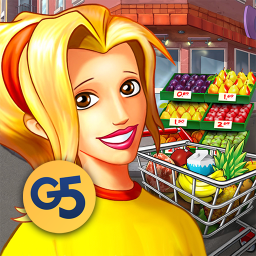 Show QR code
| | |
| --- | --- |
| Developer: | G5 Entertainment |
| Categories: | Strategies |
| Android version: | 4.1+ |
| Size: | 98.8 MB |
| Downloads: | 13 |
| Rating: | |
| Updated: | 29.07.2021 |
| Limitations: | Everyone |
Description
Supermarket Mania Journey is a cool android game in which you have to become a real supermarket owner.
Nikki decides to create her own chain of stores, can you help her with this? Managing multiple stores is not boring; on the contrary, it is a lot of fun. Create more and more stores, who else, if not you, should become the best in this business? Millions of players are already head over heels into this game, they advance and go through more and more levels (and the game has a huge number of very different levels). Supermarket Mania Journey is a game that has a cool gameplay, so it has a lot of users all over the world. Who would have thought that serving customers could be so interesting, even if they are finicky.
This game for android has several features:
Many interesting levels that are located on the map of your city
You have a cool task - serving a wide variety of customers (by the way, everyone has their own requirements)
Many products are available at Supermarket Mania Travel (try to sell as many as possible)
A fun casino mini-game allows you to earn game crystals (which you can soon use for your own purposes, for example, buy new products or something extra in the game).
What to do if something went wrong in the game Supermarket Mania Travel? No problem! The developers did their best and made support with the Google Play service, which you can contact at any second
Also, a pretty cool function has been created in the game, namely - every day, without exception, you can go to the bank and pick up your own free gifts there (they can be very different, from crystals to products).
The pluses of the game Supermarket Mania Travel for Android also include a largea variety of languages, for example, the game has as many as 11 languages: Russian, Chinese, Portuguese (Brazilian), Spanish, Korean, Italian, French and other languages. By the way, you can switch them at any second (the game will not change from this).
How to download the game Supermarket Mania Travel?
Supermarket Mania Journey is a pretty interesting and cool game for android. Each user of a mobile phone with an android operating system can actually install it. What does that require? It is necessary that the version of your android on the phone is not the oldest (best of all, if it is greater than 4.1, then the application will definitely work). In order to start the actual process of installing the game, you need to go to our website. Then, look for the game Supermarket Mania Travel (perhaps it will be shown to you immediately on the main page, but if not, then you will have to search). Then go to the game, press the "download" button. Install the game and you can safely launch it!
Supermarket Mania Journey for APKshki.com downloaded 13 times. Supermarket Mania Journey is distributed freely in the file type apk.
All applications and games on our site are antivirus-tested using the most up-to-date signatures..
Other apps G5 Entertainment