Arm Workout - Biceps Exercise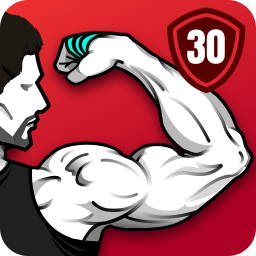 Show QR code
Advantages
Select a skill level.
You can train for just 10 minutes a day.
No additional hardware required.
Visual training statistics.
Exercise instruction videos.
Small application size.
Disadvantages
Even on minimal difficulty, the exercises are not suitable for beginners.
A small selection of exercises.
Dear premium.
Description
"Hand Workout" is an application from Leap Fitness Group, its weight is only 13.5 mb, the latest modification is 1.0.9. Installed on OS "Android" 4+, you can download it for free.
Description
Daily exercise will help your muscles strengthen and become more elastic. The metabolism of tissues is improved, which makes the legs less tired. Workouts can be of different intensity and complexity, which makes it possible for both beginners and experienced people to practice.
Many professions involve significant stress on the hands. The app, released by Leap Fitness Group, delivers significant muscle tension reduction through the development of unique new exercises.
Features
It is also important that there is no need to acquire any special equipment. All exercises can be done without leaving the room. The rehabilitation program is designed for one month. During this short period, there will be a chance to regain shape. Software advantages:
Uniquely designed by world renowned fitness professionals.
Various exercises.
Fast tangible results.
Intuitive functionality.
Aesthetically pleasing interface.
There are several sets of classes that vary in degree of difficulty. Go to the company's portal, download the application and install it on your smartphone.
Arm Workout - Biceps Exercise for APKshki.com downloaded 11 times. Arm Workout - Biceps Exercise is distributed freely in the file type apk.
All applications and games on our site are antivirus-tested using the most up-to-date signatures..
If you find a virus: [email protected]
If you want to host your application or game with us [email protected].
Add description: [email protected] with a note for adding a description.
Screenshots
Other apps Leap Fitness Group