Colin McRae Rally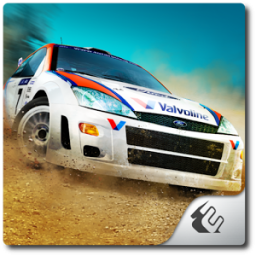 Show QR code
| | |
| --- | --- |
| Developer: | Thumbstar Games Ltd. |
| Categories: | Race |
| Android version: | 4.0+ |
| Size: | 13.2 MB |
| Downloads: | 11 |
| Rating: | |
| Updated: | 08.02.2021 |
Advantages
Realistic graphics.
Several game modes.
Well-developed, challenging tracks.
Free to play.
Disadvantages
The game is not receiving updates.
There is no Russian translation.
There is no change in the weather.
Small selection of maps and cars.
Description
Colin McRae Rally is a 3D racing game in which you race off-road on sophisticated tracks around the world, driving legendary rally cars by Colin McRae.
Dynamic racing game for Android
Unlike most mobile racing simulators, here you have to race along the most difficult rally tracks around the world, the total length of which exceeds 130 kilometers. In the latest version of the program, only four cars are available, the Colin McRae Rally series is popular for another. The game offers the user an unsurpassed simulation of off-road racing, has realistic physics and a car damage system. The few drawbacks of the game include, perhaps, the lack of translation into Russian.
Key features of the game:
Trails around the world: mountains of Greece, sands of Australia, winding streets of Corsica, etc.
Four legendary cars by Colin McRae: Subaru Impreza, Mitsubishi Lancer Evolution VI, Lancia Stratos and Ford Focus.
The total length of the tracks is over 130 kilometers.
Convenient control.
Realistic physics and vehicle damage system.
Several game modes.
Global Leaderboard.
From apkshki.com, you can always download the Colin McRae Rally game for Android to your smartphone.
Colin McRae Rally for APKshki.com downloaded 11 times. Colin McRae Rally is distributed freely in the file type apk.
All applications and games on our site are antivirus-tested using the most up-to-date signatures..
If you find a virus: [email protected]
If you want to host your application or game with us [email protected].
Add description: [email protected] with a note for adding a description.
Screenshots