Air Traffic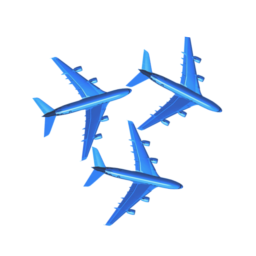 Show QR code
| | |
| --- | --- |
| Developer: | Flight Apps |
| Categories: | Maps and navigation |
| Android version: | 1.0+ |
| Size: | 7.9 MB |
| Downloads: | 0 |
| Rating: | |
| Updated: | 16.08.2022 |
| Limitations: | Everyone |
Description
Air Traffic is a program for tracking planes on a map, in real time. It also allows you to get some additional information about each found flight for free, without any paid subscriptions and additional packages.
Online map of aircraft flights, which is always at your fingertips
In the latest version of this program, you will see almost all aircrafts in the air on a convenient map. You can click on any of them to get detailed information about it. The program also offers a convenient search, which will take a few seconds to find the desired flight, so you can find out the following information:
flight altitude:
flight speed;
flight number;
airplane model with its photo;
airline affiliation;
points of origin and destination;
travel time:
departure and arrival times;
realistic 3D animation of the cockpit view;
Want to know more about the planes flying over your head? Then download the free Air Traffic app for Android on your smartphone.
Air Traffic for APKshki.com downloaded 0 times. Air Traffic is distributed freely in the file type apk.
All applications and games on our site are antivirus-tested using the most up-to-date signatures..
If you find a virus: [email protected]
If you want to host your application or game with us [email protected].
Add description: [email protected] with a note for adding a description.
Screenshots