Subway Simulator 3D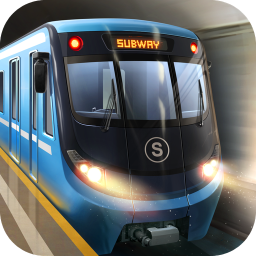 Show QR code
| | |
| --- | --- |
| Developer: | Simulators Live |
| Categories: | Simulators |
| Android version: | 4.1+ |
| Size: | 137.7 MB |
| Downloads: | 75 |
| Rating: | |
| Updated: | 10.12.2021 |
| Limitations: | Everyone |
Advantages
Detailed metro map.
Possibility to build a collection of trains.
Realistic squad management.
High quality graphics.
Disadvantages
Lots of paid features.
Advertising is present.
No screen rotation function.
Hangs on some devices.
Description
Subway Simulator 3D is the most advanced high-speed train driving simulator that will fully make you feel like a subway driver. Explore the subway map, transport passengers in your own train and unlock new modern metro trains!
What awaits you in the game
Decide for yourself which underground path to follow and which train model you want to drive. Take people to certain stations that they need and level up. The higher the level, the more varied routes and train models will be available to you.
Use the door close and open button to control when passengers get on and off your subway train.
Control the acceleration and deceleration of an underground train like a real train driver using a special lever, the functions of which are similar to those of a real subway train.
Using the camera turning towards the carriage compartment, monitor the occupancy of the carriage with passengers and try to deliver everyone to the station they need, and become the best in this business.
Keep in mind that Metro 3D is a very realistic game, so you will receive fines for breaking the speed limits of your underground train or violating other underground traffic rules.
Use the siren to alert other trains of your movement, to prevent collisions and to be the most accurate driver.
Experience the latest technology using the autopilot feature in modern underground train models.
Among other things, you are offered a huge variety of subway routes - create your own working day as a subway driver! Log in to the game as often as possible to regularly receive rewards and bonuses. You can download the game for free on Android on the website apkshki.com in the apk file format. Enjoy your adventures in the subway!
Subway Simulator 3D for APKshki.com downloaded 75 times. Subway Simulator 3D is distributed freely in the file type apk.
All applications and games on our site are antivirus-tested using the most up-to-date signatures..
If you find a virus: [email protected]
If you want to host your application or game with us [email protected].
Add description: [email protected] with a note for adding a description.