АкцизКонтроль: Сканер Алкоголя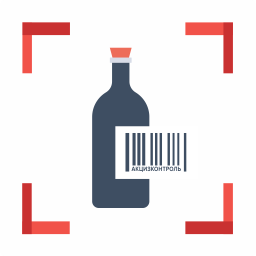 Show QR code
Description
ExciseControl: Alcohol Scanner is an application for finding a certified alcoholic product and detecting counterfeit products. The scanner will protect the buyer from purchasing low-quality goods and save him from the negative consequences of consuming low-quality alcoholic products. Download the program for Android from our website and you will always know about the quality of the goods. The installation is free and does not contain viruses.
Alco Guard
The system algorithms of the scanner are designed in such a way as to work quickly and just as quickly notify the user about a counterfeit or natural product. All a person needs to do is turn on the camera, launch the application and bring the lens to the excise stamp glued to the bottle or wine box. The program will instantly provide information to the user, as well as confirm or deny the authenticity of the goods.
EGAIS receipts with a QR code on them can also be scanned. Both methods work equally well, since codes and excise stamps contain all the necessary information about the drink, including the name, name of the manufacturer, distributor, their addresses, contacts, etc.
Application Features
The main feature of the program is the speed of data processing. With a fast and stable Internet, it will take a couple of seconds from the moment the excise tax is set to display the necessary information on the screen. Also, the scanner almost does not take up space in the smartphone's memory, it can be installed on an SD card and work in the background, it spends 1% of the battery charge per hour.
To use the program, you do not need superuser rights and access to root directories. During operation, the application does not collect user data, does not connect to the microphone and does not scan the user's contact book, so when connecting to the Internet, do not worry about confidential information getting into the network.
АкцизКонтроль: Сканер Алкоголя for APKshki.com downloaded 1 times. АкцизКонтроль: Сканер Алкоголя is distributed freely in the file type apk.
All applications and games on our site are antivirus-tested using the most up-to-date signatures..
If you find a virus: [email protected]
If you want to host your application or game with us [email protected].
Add description: [email protected] with a note for adding a description.
Screenshots